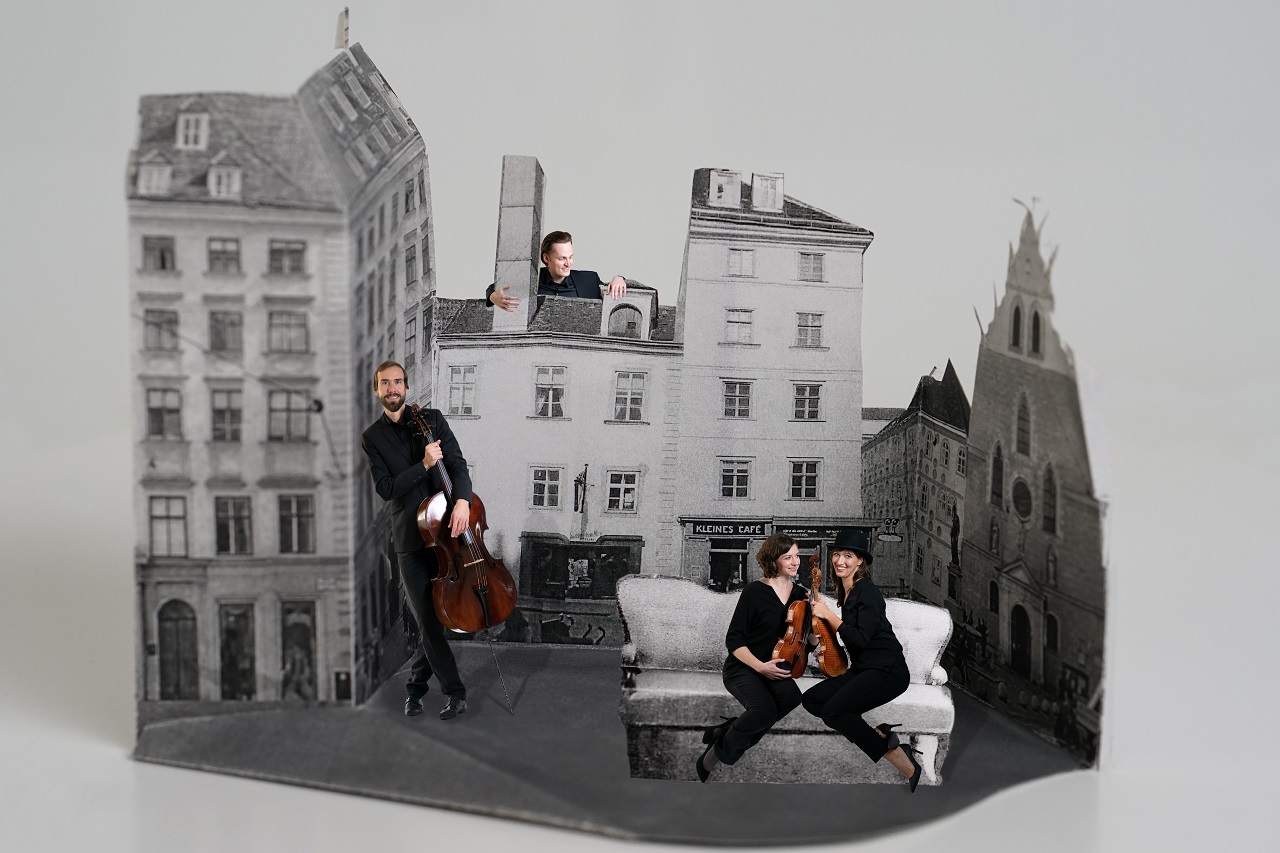 1. & special prize Johannes Brahms Chamber Music Competition, Austria
1. & special prize "Citta di Pinerolo" Chamber Music Competition, Italy
1. & "Grand Prix" Beethoven Chamber Music Competition, Poland
3. prize "M-Prize" Competition, USA
Windisch Chamber Music Award
"New Austrian Sound of Music" Ensemble
The Wiener Klavierquartett (former Stratos Quartet) was founded in spring 2013 by four young musicians who became acquainted while attending the University of Music and Performing Arts in Vienna. In September of the same year, the vienna piano qurtet gave an impressive performance at the 20th International Johannes Brahms Competition in Pörtschach, Austria, for which they received the first prize for chamber music. The quartet, which was enthusiastically received by audience and jury alike, also won the special prize awarded by Neues Künstlerforum and a concert engagement at the Hofburg in Vienna.
Soon thereafter, in October of 2013, the vienna piano quartet was honoured by being admitted to ECMA (the European Chamber Music Academy). This afforded the fledgling ensemble opportunities for future collaborations with renowned chamber musicians and professors such as Hatto Beyerle, Johannes Meissl, Alfred Brendel, Ralf Gothoni, Avedis Kouyoumdjian, Claus-Christian Schuster, Jerome Pernoo, and Michel Lethiec. And to top off a highly successful year, December 2013 saw the ensemble awarded the Josef Windisch Chamber Music Prize.
Since then, the Wiener Klavierquartett has given concerts at venues including the Vienna Musikverein, Wigmore Hall in London, the Grande Auditorio of the Gulbenkian Centre in Lisbon, the Grafenegg Festival, the Dvorak Festival in Czech Republic, Casa da Musica in Porto, and the Turku Festival in Finland as well as in Japan, USA, Italy or France. Some of their concerts have been recorded for broadcast via radio (Ö1) and/or television (RTP).
Achievements of this piano quartet include the first prize and the "Grand Prix" at the Beethoven International Chamber Music Competition in Polen, first prize at the Città di Pinerolo e Torino – Città metropolitana International Chamber Music Competition, the third prize at the M-Prize Chamber Arts Competition in Michigan, USA, and selection for the "New Austrian Sound of Music" programme of the Austrian Federal Ministry for Europe, Integration, and Foreign Affairs.
All four musicians have won multiple awards at national and international competitions and pursue extensive performing careers both as solo performers and as chamber and orchestral musicians. They enjoy pooling their individual experiences and approaches in order to create a homogeneous sound, as well as introducing an even larger audience to the piano quartet as something distinct from the prevalent string quartet and piano trio genres.
Katharina Engelbrecht – Violin
Magdalena Eber – Viola
Jan Ryska – Violoncello
Maximilian Flieder – Piano